A Tasty Summer Treat... Grilled Corn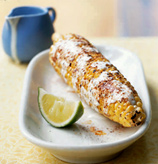 There is grilled corn on the cob and then there is grilled corn on the cob. This recipe makes the BEST grilled corn I have ever eaten, bar none. I found this recipe a few years ago in
CookingLight
and have been a huge fan after trying it the first time.
Go get some corn on the cob. Right now. Make this for yourself. You won't be disappointed.
GRILLED MEXICAN CORN WITH CREMA



On the streets of Mexico, people line up at vendor carts to buy giant ears of roasted corn dunked in rich crema Mexicana and sprinkled with chili powder and lime juice. Crema Mexicana is similar to sour cream and can be found in many large supermarkets in the Mexican food section (it's canned). If you can't find it, use low-fat sour cream.

1 teaspoon chipotle chili powder (or any chili powder)
1/2 teaspoon salt
1/8 teaspoon freshly ground black pepper
6 ears corn
Cooking spray
1/4 cup crema Mexicana
6 lime wedges

Prepare grill.

Combine first 3 ingredients.

Place corn on a grill rack coated with cooking spray; cook 12 minutes or until corn is lightly browned, turning frequently. Place corn on a platter; drizzle with crema. Sprinkle with chipotle mixture. Garnish with lime wedges (make sure you squeeze the lime on the corn. It makes the dish).

Yield: 6 servings (serving size: 1 ear)



NUTRITION PER SERVING


CALORIES 160(29% from fat); FAT 5.2g (sat 2.5g,mono 1.5g,poly 1g); PROTEIN 5g; CHOLESTEROL 8mg; CALCIUM 24mg; SODIUM 228mg; FIBER 4g; IRON 0.8mg; CARBOHYDRATE 28.2g
This post is a part of
Fitness Fridays
hosted by
Pursuing Yahweh
.