Kids...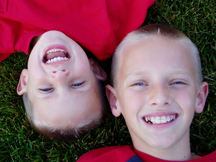 I am really blessed to have two great boys. Kids change everything. I know they tell you that. You read about it (we read everything before our fist was born - we were "experts"). However, nothing prepared us for the real deal.
"Wonder"... that's a pretty good word to describe it. "Unbelieveable"... there's another. There is something about holding someone else's child and somethig altogether again about holding your own. No science to it; just wonder.
I have a friend who is getting ready to be a dad for the first time. He'll be a great dad. He's fun, he cares, he doesn't take himself too seriously. Most of all he is a carer (is that a word?) and a giver - he very unselfishly gives himself to the people and causes he cares about and he cares very deeply. I'm looking forward to seeing how his son changes him. And I look forward to seeing the kind of man McKay grows up to be.
Kids give you an insight into the heart of God. They teach you more about love and giving and caring. They even teach you about holiness and justice and grace and mercy. I know more - and less - about God than ever before.
And that's the wonder of it all.
======
I may be taking a break for a week, unless I can find a computer to use in Kauai (or not). BTW,
WRP this was not a mercy blog.